Well...yes...the day has finally come to turn 57 years old. Life is wonderful with each passing year when you
know the Lord! I was reading in my devotions this morning that God does not "clean up" for us after trials in
our life; He goes through them with us. What a wonderful God we serve! I hope you have a wonderful day!
I would like to ask everyone to give me a special birthday present today ~ spend some quality time in the
Word and with the Lord! Love you all!
Here's one of my favorite recipes. . . Enjoy!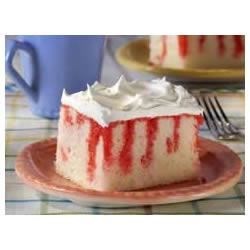 Ingredients:
Original recipe makes 16 servings
1 package white cake mix
i cup boiling water
1 package (4 serving size) JELL-O Brand Gelatine, any flavor
1/2 cup cold water
1 (8 oz) tub Cool Whip thawed

Directions